Must Haves for the First Time Home Builder
Building a home can be a rewarding project that pays you back in spades. Since every family has unique needs and expectations, designing a house that fits your lifestyle can set you up for decades of future happiness. Not to mention, current home trends have more to offer the savvy home builder than ever before. So, if you've accepted the challenge of constructing your dream home, consider implementing these essentials.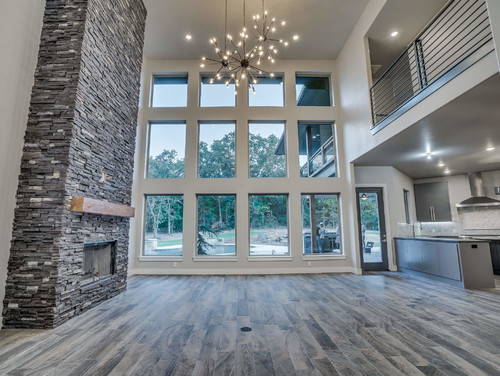 Photo by Silver Stone Homes – Look for home design design inspiration
A Solid Plan
Before construction begins, you'll avoid stress and chaos by having laid the groundwork beforehand. What direction will the house face on the lot? How will the layout flow? What design trends do you want to emulate? There are many useful tools for creating floorplans and meticulously diagramming each room, while design sites like HGTV, Houzz, and Pinterest give you ample ideas for every style imaginable. And remember—every executable plan must be organized. Whether you prefer spreadsheets and digital applications or pen and paper, keep those ideas thoughtfully arranged.
Photo by Silver Stone Homes – Search living room design ideas
Strategically-Placed Outlets and Conduits
With technology making room for flatter, sleeker gadgets, ensuring the space accommodates modern devices while masking all the cords is essential. Knowing where flat-screen televisions, charging stations and computer accessories will land means having appropriate outlets and conduits. If you haven't heard of conduits, they involve pipes in the walls that keep cords out of sight. They allow that large flat-screen to seemingly float on a wall without having a slew of chords hang below. So, unless you intend to tear into walls after the fact (a messy, expensive endeavor), you'll have these necessities pre-arranged.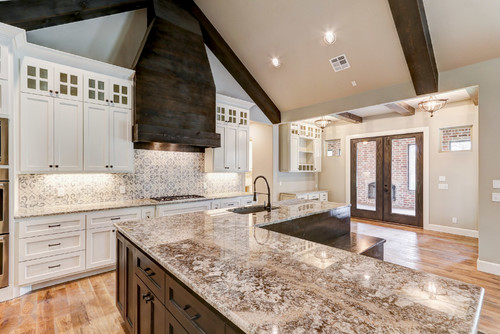 Photo by Silver Stone Homes – Search home design design ideas
Energy Efficient Systems
Edmond summers can bring triple-digit temperatures while winter ice storms chill the bones. Make sure you can relax comfortably in your custom home by installing a high-quality, energy-efficient HVAC system. If done right the first time, this investment can save you peace of mind and monthly energy costs down the road. In addition, other high-tech home trends make energy efficiency a priority, from programmable thermostats and digital assistants to smart refrigerators and integrative applications.
Photo by Silver Stone Homes – Browse home office photos
Proper Insulation
Like the HVAC system, having your home sufficiently insulated means a cozier existence. Make sure key areas—like walls and the attic—are fully stocked with top tier insulation materials, and don't forget about rim joints if the house has two floors. Realizing certain spaces are consistently too hot or too cold after you've moved in can cost you thousands to retrofit.
Photo by Silver Stone Homes – Browse powder room photos
A Convenient Half Bath
Do you work on outdoor projects that have you constantly tracking filth into the house? Maybe the backyard pool means you need a bathroom to discharge wet towels and clothing. Whatever your situation, many families need the convenience of a bathroom or half-bath near a rear doorway. Since all you need for this space is a sink, toilet and mirror, it doesn't derail a floor-plan and offers tremendous long-term benefits.
Photo by Silver Stone Homes – Look for patio design inspiration
Outdoor Faucets and Outlets
Every great home has an equally-satisfying outdoor domain, so make sure to consider your needs in this area. If anyone likes tinkering with projects in the garage, you'll need plenty of outlets, which also come in handy for landscaping tools. Of course, an outdoor irrigation system is a must with faucets aplenty for hoses and/or utility sinks.
Photo by Silver Stone Homes – More closet photos
Storage, Storage, and More Storage
When arranging your ideal floor plan, look for pockets of unused space to use for storage. These often show up between bedrooms, under stairs, and in rooms with vaulted ceilings. And don't forget about the kitchen. If you use appliances like stand mixers, food processors, or waffle/sandwich makers, you'll want plenty of out-of-sight storage options.
Photo by Silver Stone Homes – Look for kitchen design inspiration
A High-Quality Builder
Regardless of the plan, none of your amazing ideas can take root without a well-established professional builder. To start, choose one properly licensed and insured. Next, do enough research to establish credulity and a history of satisfied customers, and it never hurts to see previously-completed projects in person. Once you've picked a solid home-building partner, stay informed on all ongoing work, visiting the site regularly to make sure your plans are coming through.
If you want a custom home that withstands market volatility and rewards all your effort, consider these ideas. Since your house is likely the biggest investment you'll ever make, planning and executing things right the first time will keep you satisfied with the final outcome.
https://sshomesok.com/wp-content/uploads/2019/06/SSHomeLogo.png
0
0
Candace Hamilton
https://sshomesok.com/wp-content/uploads/2019/06/SSHomeLogo.png
Candace Hamilton
2019-05-13 04:04:27
2021-01-30 04:56:13
Must Haves for the First Time Home Builder